Dr. Jarkko Routtu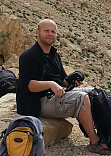 Research Interests
I am interested in finding the honey bee's (Apis mellifera) QTLs of resistance to Varroa destructor. The aim of the study is to find practical ways to manage honey bees by fighting the parasite in the hive system using the resistance traits of the host rather than using external sources of parasite control like acaricides.
Curriculum vitae
Education
2007: PhD, at the University of Jyväskylä, Finland
2000: Master of Science in Genetics at the University of Helsinki, Finland.
Professional Career
Since 2015: Lecturer, Martin-Luther-University, Halle-Wittenberg, Germany.
2012-2014: Postdoc, Department of Zoology, Tel Aviv University, Israel.
2007-2012: Postdoc, Zoological Institute, University of Basel, Switzerland
2003-2007: PhD student, Department of Biological and Environmental Sciences, University of Jyväskylä, Finland.
Publications
Books
Routtu J (2007): Genetic and phenotypic divergence in Drosophila virilis and D. montana. PhD thesis, Jyväskylä Studies in Biological and Environmental Science, vol 181, University of Jyväskylä, Finland
Romantschuk M, Boureau T, Routtu J, Taira S, Roine E (2001): Expression of the Pseudomonas syringae Hrp Pilus in Planta. Plant Pathogenic Bacteria, 87-92. Kluwer Academic Publishers, the Netherlands.
---
---