QTL analysis of the honey bee (Apis mellifera) resistance to Varroa destructor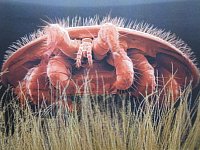 V. destructor decimated the feral European honey bee populations since its first introduction in the 1980´s. Two independent host switches of V. destructor from A. cerana in Japan and in Korea to introduced A. mellifera colonies were the initial entry points for the parasite. Now, the Korean haplotype being more fecund, it is the most common type. Honey bee keepers soon started to use medication against V. destructor like acaricides or oxalic acid or thymol treatments as without any treatment the colonies die off within two or three years. Despite of great breeding efforts like German "Varroaresistenz-Zucht" resistance to V. destructor has emerged only in simple natural selection based programs like the ones in Gotland, Sweden and Avignon, France. African honey bees and Africanized honey bees are also resistant to V. destructor. Different behaviours (e.g. grooming and Varroa sensitive hygiene) and physiological traits (inhibition of V. destructor reproduction in the drone brood comb) contribute to the resistance. Also, absconding (where the whole colony leaves the hive) plays a part in African and Africanized honey bees´ resistance to V. destructor. V. destructor remains to be the leading cause of colony losses caused by a parasite even after forty years of its initial emergence in Europe.

There is a need for a network of local bee keepers, which could introduce resistance traits to locally adapted honey bees. Local honey bees may be well adapted to their environment but when there are invading new parasites they may lack the genetic variation needed for successful parasite resistance. However, this variance may be present in some other local bee population. My project is there to provide these QTLs. I aim to find A. mellifera resistance QTLs to V. destructor based on physiology. Inhibition of V. destructor reproduction in the drone brood is the trait of interest. This is a trait of an individual and also binary trait which may make it more easily tractable on the genome level analysis. The behavioural resistance traits are colony level traits that may be difficult to disseminate genetically due to their complex nature. Thus, I aim to preserve the locally adapted honey bee populations, which lack resistance by introducing resistance in them in as small fragment of DNA as possible. As in my view in any domesticated species the mosaic of different locally adapted breeds should be maintained as a resource for the future generations.
---
---