Monitoring and conservation of raptor populations in the north-eastern foreland of the Harz Mountains 2009-2015
(Promotion of nature conservation projects and landscape conservancy projects in Saxonia-Anhalt, financed by Saxonia-Anhalt and the EU).

The foreland of the Harz Mountains with the forest islands Hakel, Hohes Holz and Huy, the Bode-Selke-floodplain and the surroundings of the FFH-area Hakel has become an important reference area of biodiversity investigations of raptor populations. The results of this project serve Saxonia-Anhalt for reports to the EU, to develop management plans, and to realize forestry in agreement with nature protection and they are part of the Monitoring of raptors and owls of Europe. Therefore is needed a close cooperation with the regional government authorities and the forest holding of Saxonia-Anhalt.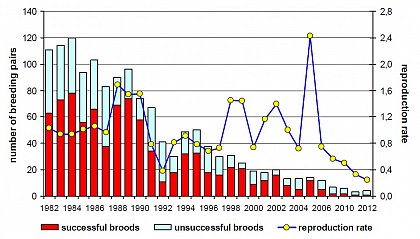 Especially the breeding centre of the Red Kite Milvus milvus within its whole range is placed in the northern foreland of Harz Mountains. There are data of population dynamic since 1957 for the Hakel and since nearly 10 years (MAMMEN & STUBBE 2000, 2009; STUBBE 2000; STUBBE ET AL. 2000A,B; 2006, 2007, 2009A, B, C; WEBER et al. 2009) for its surroundings and the other forest islands. Also were done inves-tigations in the open landscape in perennial intervals by Dr. B. Nicolai (Museum Heineanum, Halberstadt).

Saxonia-Anhalt has a peculiar responsibility for this geographic area and its biodiversity. Currently are generating strong changes in land use of agriculture and forestry, extension of infrastructure and windparks dramatically changes of biodiversity. Therefore it's mainly to investigated, to record, and to trace the population trends and the dynamic of reproduction efforts as well as mortality causes of peak indicators and prey animals in long-term studies.
---
---