PD Dr. Silvio Erler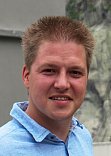 Dr. Erler has left our group in 2019.
Research Interests
Host-parasite evolution

Biology of social insect diseases
Ageing and immunity of social insects (Apis, Bombus)

Evolution of insect innate immune system and behavioural immunity

Genetic basis of caste determination
Evolution of mitochondrial genomes (social insects, Orthoptera)
Genome annotation, immunity genes (Bombus)
Curriculum vitae
Academic Education
2018: Habilitation, PD Dr. habil., (MLU Halle-W.)
Thesis: Evolution of innate and social immunity in eusocial bees
2012: Dissertation, Dr. rer. nat.: MLU Halle-W.
Thesis: Molecular Analysis of Host-Parasite Interaction in the Bumblebee Bombus terrestris (Linnaeus, 1758)
2008: Diploma (Biology): MLU Halle-W.
Professional Career
Since 10/2018: Deputy head of chair of 'Animal Ecology', Martin-Luther-University Halle-W.
2013-2018: Lecturer / Research associate, MLU Halle-W., Molecular Ecology group
2012-2013: Postdoctoral researcher, University of Agricultural Sciences and Veterinary Medicine Cluj-Napoca (Romania), employed in ERDF project RoBeeTech
2008-2011: PhD student, research assistant, MLU Halle-W.
2003-2008: Student of Biology at the Martin-Luther-University Halle-Wittenberg
Referee Activities
African Entomology; AGE; Agriculture, Ecosystems & Environment; Annales de la Société Entomologique de France; Animal Behaviour; Apidologie; Biological Journal of the Linnean Society; Bulletin of Insectology; European Journal of Entomology; Evolution; Evolutionary Ecology; Experimental Gerontology; Frontiers in Microbiology; Industrial Crops and Products; Insects; Journal of Apicultural Research; Journal of Asia-Pacific Entomology; Journal of Economic Entomology; Journal of Evolutionary Biology; Journal of Insect Science; Journal of Invertebrate Pathology; Microbiome; Parasitology Research; PeerJ; Pharmaceutical Biology; PLoS ONE; PLoS Pathogens; Proceedings of the Royal Society B; Regulatory Peptides; Royal Society Open Science; Scientific Reports; The Science of Nature (Naturwissenschaften); Virulence; Zoological Studies

BBSRC (Biotechnology and Biological Sciences Research Council, part of Research Councils UK), NRF (National Research Foundation, South Africa), NSF (National Science Foundation, USA)
Funding
2015-2019: "Self-medication and innate immunity in the honeybee Apis mellifera", German Research Foundation (DFG)
Publications
Peer-reviewed
Book reviews
Erler S (2012): SCHMID-HEMPEL, P. 2011: Evolutionary parasitology: the integrated study of infections, immunology, ecology, and genetics. Myrmecol News 17: 32
Non Peer-reviewed
Erler S, (2014): Selbstbehandlung bei Bienen. Deutsches Bienen-Journal 22(10): 31.
Popp M, Erler S, Lattorff HMG (2009): FUGABEE: Funktionelle Analyse von Krankheitsresistenzgenen bei der Erdhummel (Bombus terrestris). Genomxpress 4.09: 7-10


---
---