Varroa-Gate
Co-operation of AG Molekulare Ökologie, MLU (Robin Moritz) and Bayer Animal Health GmbH, BAH-GM-FAP (Klemens Krieger)
Project Goal
The parasitic mite Varroa destructor is the major cause of global colony losses. Recurrent treatments with acaricides are required to keep the colony alive. The Varroa-Gates attached to the flight entrance of the colony aims to eliminate phoretic mites from bees entering or leaving a honeybee colony and is intended to block the horizontal transfer of Varroa destructor among colonies.
Status of Development (2015)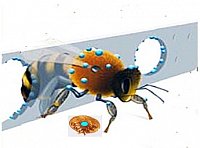 Fig 1 Illustration of Varroa-Gate
A bee passes through a hole in the polymatrix carrier. The active ingredient (blue) is transferred to the integument of the bee and eliminates a phoretic mite.
The Varroa-Gate is a polymermatrix carrier of active ingredient which is fitted at the hive entrance. It functions as a barrier and passing bees must run through one of its numerous holes. The number and size of the holes were designed in relation to bee and drone size and to the requirements of hive ventilation. The active ingredient of the Varroa-Gate is released by contact of passing bees. The phoretic mite hit by active ingredient dies within 24 to 48 hours. Thus, the infestation by mites from other colonies via returning foragers or robbing bees is prevented. Similarly, phoretic mites attached to bees starting for a flight will be eliminated by the passage through the Varroa-Gate reducing the number of mites within the colony. Flumethrin as well as Coumaphos in combination with specific adjuvants proved to be effective as active ingredients for Varroa-Gates. Development of tests for Varroa destructors' resistance against the above acaricides is be included in this study.
---
---