Prof Dr Nikolaus Koeniger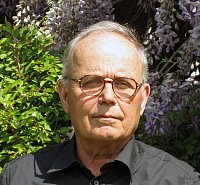 Research Interests
Honey bee behaviour, brood care, defence, reproduction and phylogeny of Apis.
Special emphasis on tropical honey bees, Apis andreniformis, Apis cerana, Apis dorsata, Apis florea, Apis koshevnikovi, Apis nuluensis and African subspecies of Apis mellifera.
Research on biology of parasitic honey bee mites (Varroa spec., Euvarroa spec., Tropilaelaps spec.); new control methods and medications.
Together with Dr. Gudrun Koeniger since 2011 development of a device (Varroa-Gate) to control horizontal transfer of Varroa destructor in co-operation with Bayer Animal Health.
Curriculum vitae
Personal Information
born 08.05.1941 in Berlin
Academic Career and Professional Experience
1968: Dr. phil. nat. (Biology) at Johann Wolfgang Goethe Universität
1978: Privat Dozent (Biology) at Johann Wolfgang Goethe Universität (Habilitation)
Position
1969-1970: Scholarship of the Deutsche Forschungsgemeinschaft
1970-1972: Research Assistant: Fachbereich Biologie, Univ. Frankfurt
1972-1979: Lecturer: Fachbereich Biologie, Univ. Frankfurt
1979-1980: Research Associate: Landesanstalt für Bienenkunde, Universität Hohenheim, Stuttgart
1980-1981: Associate Professor, Dept. of Environmental Biology, Ontario Agricultural College; Univers. of Guelph; Ontario, Canada
1981-2007: Professor and Director, Institut für Bienenkunde, (Polytechnische Gesellschaft)
Fachbereich Biowissenschaften der Goethe-Universität, Frankfurt a. M, Oberursel, GERMANY
2007: Retired
2007-2014: Research Associate Institut für Bienenkunde
2014-now: Currently at Molecular Ecology (MLU)
Publications
More than 150 scientific articles and several chapters in scientific textbooks.
Books
Nikolaus Koeniger, Gudrun Koeniger and Salim Tingek (2010): Honey Bees of Borneo- Exploring the Centre of Apis Diversity. Natural History Publications Borneo, pp. 262.
Gudrun Koeniger, Nikolaus Koeniger und Friedrich-Karl Tiesler (2014): Paarungsbiologie und Paarungskontrolle der Honigbiene. Buschhausen Druck-&Verlaghaus2013 pp. 383 (in German)
Gudrun Koeniger, Nikolaus Koeniger, Jamie Ellis and Lawrence Connor (2014): Mating Biology of Honey Bees (Apis mellifera). Wicwas Press pp.155.
---
---